Over twenty years of design and engineering excellence.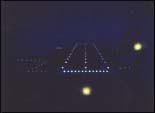 Laser Guidance, Inc. was founded in 1993 to commercialize the laser-based precision guidance systems invented by the two founding principles, Dr. David Shemwell and Dr. Alan Vetter. These systems provide long-range, precision, laser-based approach lighting systems for aircraft carriers, and other air capable ships. These extremely reliable and cost effective systems provide US Navy aviators with precise long-range visual information for centerline and glideslope, making night carrier flight operations safer and more efficient. Currently in service with the US Navy aircraft carrier fleet, Laser Guidance systems, built under license by Raytheon, are earning their wings in nightly flight operations.
An adaptation of this technology, based on low-power light emitting diodes (LED), was conceived by Laser Guidance for other military and emergency applications. This portable, trailer-deployable system allows the US Army to transform any landable field or road in the most remote location into a night capable airfield. Examples of these units are currently in US, NATO, and UN inventories around the world.
Laser Guidance has brought this same standard of quality and reliability demanded in military service to civil application in its LED and solar powered LED airfield lighting products. These technologically advanced and highly efficient, cost effective solutions allow any off-electrical-grid airfield to be upgraded to night-time operational capability and offer safer landings in low-visibility daylight conditions. Systems are FAA/NATO/ICAO compliant and are scalable from a simple emergency airstrip to a modern major international aerodrome.
More recently, Laser Guidance has leveraged this experience in its development of advanced technology roadway lighting products and electrical power generation and distribution. Laser Guidance is actively developing relationships around the developing world for application of these new technologies.