The Portable Airfield Lighting System (PALS) converts ordinary flat terrain into a 5000 ft runway. Deployable by a three member crew, the system provides all the equipment needed for a fully functional airfield.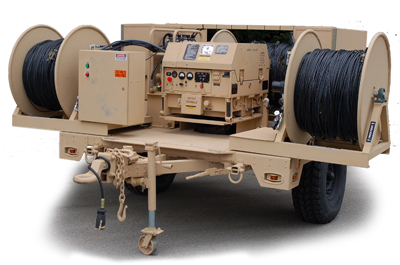 The trailer is a multi-faceted component of the PALS system. It holds all of the necessary equipment for lighting a 5000 ft runway and is designed for rapid deployment, recovery, storage, and off-line recharging of all the system components. The portable LED PAPI box slides into the main housing at the rear with folding legs collapsed, 48 Edge Lights and 12 Threshold Lights stack along the sides, and the batteries attach to the bottom of the trailer. Located at the front of the trailer, 2 tactical generators sit between two chord reels, and each 5000 ft charging cord winds round a sliding reel. The trailer is wired so that all component batteries can be charged while stored on the trailer with universal AC (85 to 240 VAC) or 24-28 VDC. The radio control transponder and other accessories fit neatly within the trailer.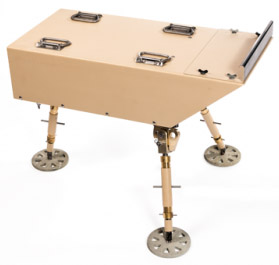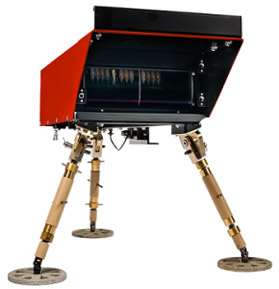 Portable PAPI
The Portable LED PAPI MKII provides precision visual and NVG compatible glideslope guidance to approaching pilots at a range up to 6 nautical miles. The built in tripod unfolds easily with each leg of the tripod ending in a broad articulated foot for use on soft and unimproved surfaces. Setup alignment is accomplished easily via built-in inclinometer. With a separate battery box, the MKII functions for over eight hours using less than 84 watts of power. For long-term use, the system plugs into the deployable charging cords powered by the tactical generators. The Portable PAPI MKII operates by manual switching or by remote radio control.
Runway Edge Lights
The multimode lighting system outlines the landing field with 48 edge lights and 12 threshold lights. Each light has visible, NVG, and FLIR modes. When the system is turned off, a retroreflective material covers the flip-up barrels for enhanced visibility. The lighting system functions for over eight hours on internal rechargeable batteries. For long-term use, the lights plug into two 5000 ft charge chords. The units operate by manual control or by remote radio control. Each unit weighs 4.6 lbs.
Standard NATO Trailer
The PALS trailer comes with HMMWV tires and interfaces, meeting all US Army and NATO airmobility standards including attach points for sling loading. The trailer with all components weighs 4000 pounds.