Laser Guidance LED PAPI systems provide unrivaled performance with unmatched efficiency benefitting in lowest cost of operation, lowest maintenance, and highest reliability. Depended upon by militaries around the world including US Army, Marines, US Navy and Air Force, UAE, Saudi Air Force, UN, and more. These units have a 10 year proven track record in the harshest conditions, from the cold frozen arctic of northern Canada to the broiling heat of Eritrea and Somalia. Laser Guidance PAPI's use 1/10th the power of conventional units and can be solar powered at remote off-grid sites with the custom engineered solar power kit.
Precision Approach Path Indicator
Patented LED optics acheive lowest power consumtion, highest intensity, and sharpest red-white transition denition to provide critically accurate approach slope information to the pilot. Solar power kit ensures uninterrupted service. Proven reliability in worldwide service. Permantent frangible or temporary mounting legs. Exceeds FAA & ICAO standards.
US Patent No. 6,573,659. Other patents pending.
High power LEDs with proper heat management ensures stable photometrics for life of product


FAA L-880/881 & E-3007 (2 &4 LHA) compliant


ICAO Annex 14 PAPI (2 & 4 LHA) & APAPI (2 LHA) compliant


STANAG 3316 PAPI (2 & 4 LHA) & APAPI (2 LHA) compliant


UFC 3-535-01 (4 LHA) compliant


Optical glass lens


SOLAR POWER KIT (SPK): 24 VDC Solar panels, mounting hardware, batteries, enclosures, air transportable container, AC input for backup


GENERATOR KIT: Gas or diesel generator, AC input for backup


BATTERY KIT: Batteries & enclosures, AC input fpr backup


AC ONLY: 100 - 240 VAC 50/60 Hz, 3 & 5 step current input


NON-WIRELESS: AC input of 3 & 5 step current, local control


WIRELESS: 2.5 mile (4 km) control range with handheld controller


Powder coated aluminum chassis with integrated handles, aviation orange standard, yellow and other colors available


Stainless steel & anodized aluminum hardware


Integrated digital level


-31 to 131 deg F (-35 to 55 deg C) ambient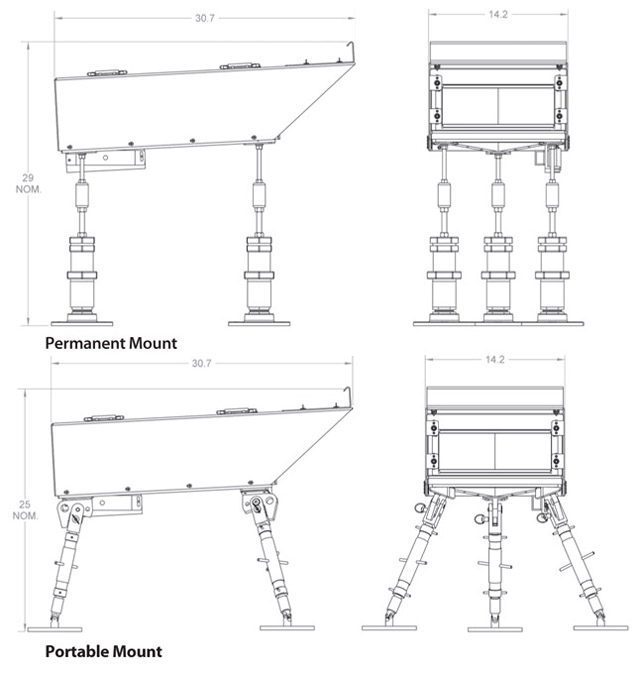 Specifications are subject to change.