SOLAR POWER POD (SPP) & SOLAR POWER STATION (SPS)
These units supply reliable power to all components for the option of a completely "off-grid" airfield lighting system.
Laser Guidance Solar Power Pod (SPP) and Solar Power Station (SPS) are paired with individual lights or groups of lighting elements, positioned safely a short distance away from runways and taxiways. This configuration keeps heavy, bulky elements safely away from aircraft ground traffic. Low power consumption of Laser Guidance LED airfield lights translates to efficient use of every watt of energy generated by the SPP and SPS, providing more reliability and extending battery life. Solar panels and batteries can be sized for scalable solutions tailored to system install locations and conditions.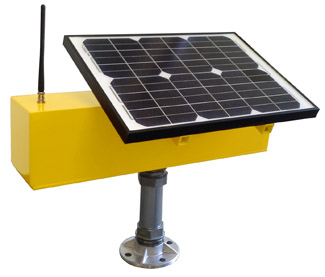 Solar Power Pod (SPP)
Units are paired with LED edge lights, threshold lights, signage, and other low-demand airfield components.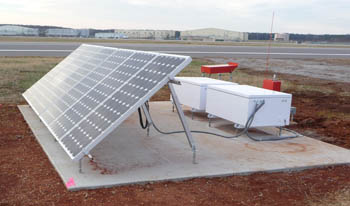 Power Station (SPS)
Provides reliable consistant power to our LED PAPI systems, beacons, and other high-demand lighting groups. Unit pictured above is installed at US Army's Fort Campbell, KY.