Engineering innovative solutions in laser optics, airfield lighting, streetlights, power generation, rocket motor design, and a wide range of scientific fields. Since pioneering development of a laser based visual landing aid system for the US Navy in 1992, Laser Guidance has provided contract technical assistance to industry and developed next-generation products for tomorrow's infrastructure.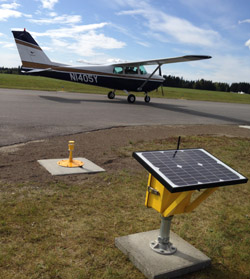 Safe reliable low-power LED components offer superior reliability with low maintenance, fast installation, at lower cost. Solar power option allows installations at off-grid airfields to vastly expand aviation infrastructure capacity. FAA and ICAO compliant.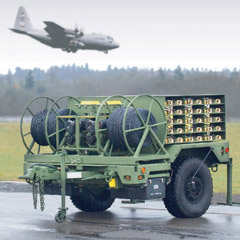 These trailered systems allow operations anywhere there is a road or hard surface open area suitable for an improvised runway. Components are deployable by a two-man team within minutes, the mission conducted, and then the airfield is repacked, to disappear into the night. Covert landings and takeoffs are possible with infrared (IR) mode lighted airfield, visible only with night vision goggles. Solar powered light components are kept ready on standby charge in trailer.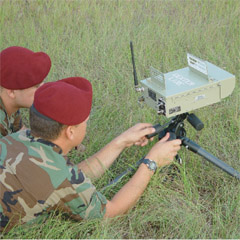 The Diode Laser Centerline Localizer (DLCL) and Diode Laser Glideslope Indicator (DLGI) are lightweight, portable, and tripod mounted guidance systems designed for precise visual guidance to landing zones. These systems operate in both visible and night vision mode using a combination of visible and infrared lasers.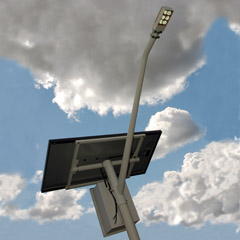 RoadStar solar street lighting systems make maximum use of every watt of energy collected by the large American made solar panels, sculping the light to follow the long, narrow shape of the roadway. Our systems are overbuilt to stand up to the harshest conditions and provide an extra margin of capacity during long cloudy periods for complete reliability.